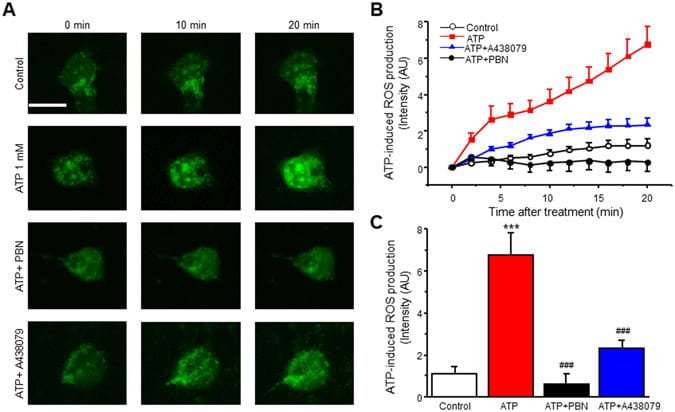 Intrathecal administration of BzATP resulted in ROS production in the spinal cord and oxidative DNA damage in dorsal horn neurons.
To confirm CellROX intensity increased due to ROS production, cells were pre-treated with the ROS scavenger N-tert-butyl-α-phenylnitrone (PBN, 30 µM) for 30 min.
ATP induces ROS increase in spinal cord dorsal horn (SCDH) neurons.
About 79% of neurons showed ROS increase to BzATP (300 µM) treatment after 20 min (33 of 42 neurons). When we pre-treated neurons with A438079 (A43) and co-treated with BzATP (300 µM), ROS production was completely blocked (Fig.
P2X7R activation with BzATP induces ROS production in SCDH neurons.
(A) Representative of live cell confocal images captured before (0 min) and after application of BzATP in the presence of vehicle or apocynin (100 µM, 250 µM).
These results indicate that P2X7R activation increases ROS production in the SCDH of mice.
Spontaneous nociceptive behavior was measured every 2 min for 16 min.