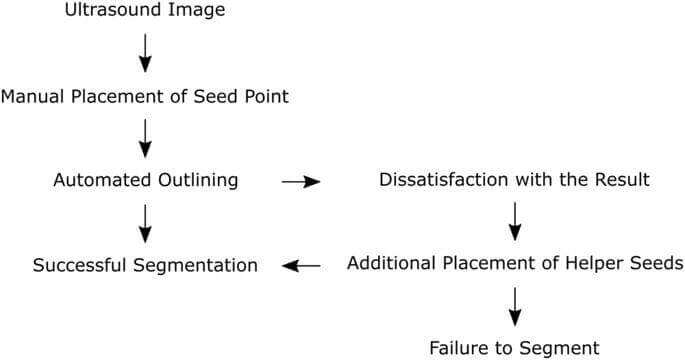 The examiners first performed a manual segmentation and, after five weeks, a semiautomatic segmentation using the algorithm.
Semiautomatic segmentation algorithms promise a faster and more accurate way to segment lesions but are often performed on a small set of lesions by examiners that often worked with the algorithm before.
The median differences of manual and semiautomatic segmentations were significant (p < 0.01) in both cases. Two examiners with over 10 years-experience in performing and interpreting over 20,000 ultrasound examinations performed the measurements. Additionally, the examiners had never used the algorithm before. Regarding the manual segmentation, examiner 2 was faster, but both examiners needed less time, when they were using the semiautomatic algorithm. Interestingly, analyzing the dataset including the segmentations marked as "not satisfied" revealed that examiner 1 had images where he spent more time on the semiautomatic segmentation than on the manual outlining. Supplementary Figure 5 presents an example of a segmentation regarded by examiner 1 as inadequate compared to the segmentation of the same image by examiner 2, who was satisfied with the result. In this contribution, we presented the results of a fast, interactive segmentation algorithm for pancreatic liver metastases in ultrasound images.